DVSA October 2020 Updates
Will I be affected by the new 3 tiered system of local Covid alerts in England?
On 14 October, the government introduced a new three tiered system of local Covid restrictions in England. No doubt, you're aware that the status of a city or region in the new system is changing all the time with the recent surge of cases across the UK. The latest government guidance to stop the spread of coronavirus and local lockdowns is available here.
Heavy vehicles
The DVSA will continue to test heavy goods vehicles (HGVs) and public service vehicles (PSVs) ensuring the safety of all involved. In managing the testing demand, the DVSA has asked operators to only book a vehicle in for its test until when its MOT is due.
Exemptions
Vehicles and trailers with MOTs up to March 2021 may still be able to claim an exemption. Eligible vehicles and trailers with November and December 2020 test dates (except first test vehicles) now have 3 or 12 month exemptions.
DVSA expect that all the remaining exemptions will be added to vehicles and trailers by early November 2020. Only first test vehicle and trailer exemptions can be completed the month before they are due.
It's a legal requirement under an operator's licence to continue with regular maintenance and inspection schedule of vehicles and trailers during the exemption period.
Have I got an exemption?
Check your status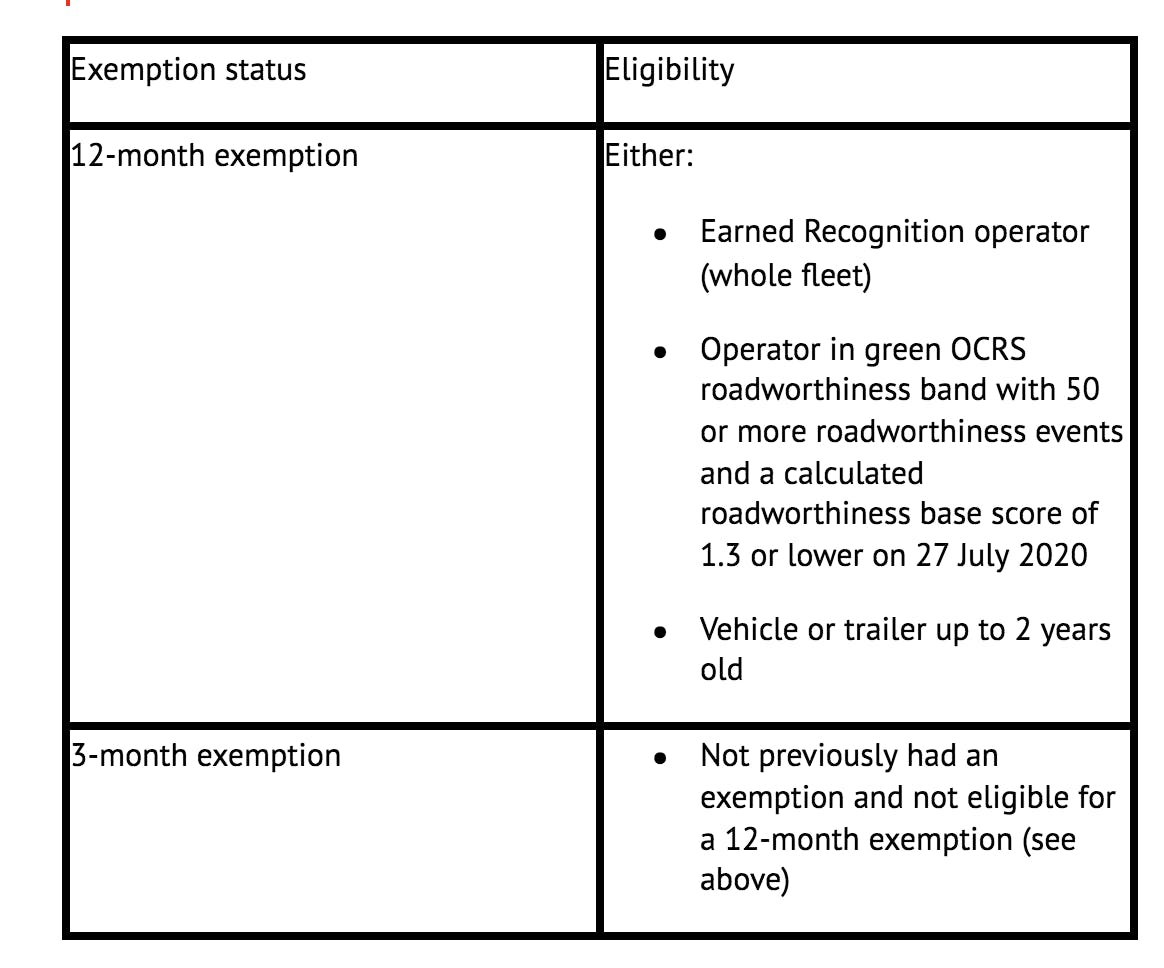 Use MOT test history to find out your new test expiry date.
There's also a useful spreadsheet of all vehicles and trailers with exemptions applied to their original October, November and December 2020 test date. Do check the MOT history to see if your MOT exemption has been applied as the spreadsheet doesn't contain vehicles and trailers due their first test:
Which vehicles/trailers need a test in November 2020?
Mandatory tests will be required for vehicles and trailers which do not qualify for a longer exemption. These are:
Vehicles given a 3-month exemption in August 2020
You can use MOT test history to check your vehicle and trailer test expiry dates.
Advice to authorised testing facilities (ATFs)
The DVSA has advised the ATFs about the vehicle/trailer tests to prioritise those which legally need a test:
Vehicles/trailers legally due a test within a month
Vehicles/trailers going on international journeys
Dangerous goods vehicles
Specialist vehicle types (e.g. refuse vehicles, gritters)
Prohibition clearances
What if I am unable to get a test booking?
To find ATFs within an area, visit the DVSA's book a lorry, bus or trailer annual test page. It's worth checking availability regularly if booking is proving a challenge as the DVSA is making more staff available at the ATFs at short notice.
Vocational tests
The additional restrictions won't affect DVSA vocational theory and practical tests and the booking system will stay open.